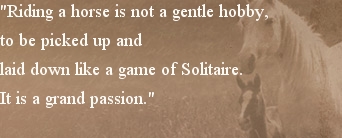 E-Mail

Use the links on the 
Contact Us
 page to e-mail            Dr Lowry, to order supplies/medication or to request a non-emergency appointment. 
Emergencies:

Please use the main office number as the ONLY telephone number for reaching Dr. Lowry. DO NOT use one of the cellular numbers you may have trapped on your caller ID.  If you have an emergency, please call (561) 743-0799.  If your call is not answered, please leave a message including your name, the telephone number where you can be reached, the animal's name and the nature of your emergency. Please remain near your telephone and your call will be returned as soon as possible.

Coggins/Vaccinations:

Please make sure to check your horse's Coggins and vaccination status.  If you are traveling out of state, please remember you must have both a current Coggings and a Health Certificate.  If you are planning multiple trips out of state, the Interstate Passport Card may be right for you. It is accepted by most southern states as a Health Certificate and is valid for 6 months.